Handan Ridong Machinery co., ltd. is located in Handan City, Hebei Province, an export-oriented enterprise which specializes in producing Internal combustion engine cold shock valve tappet, valve train and other mechanical products.  

Our company was founded in 1995, which was a joint venture jointly founded by Nitto Kogyo Co., Ltd. of Japan and Handan Ai'hua Machinery co., ltd., and its products are mainly exported to Japan and Britain. During the 20 years since its foundation, our products have stable and reliable quality, are delivered timely and highly praised by world famous engine company.
  
We have the tech and ability to produce chilled casting and thin wall casting with precoated sand, and complete producing line and testing machine from semi-finished product to finished product, which including read-only spectrum analyzer made in Germany, metallurgical microscope, roughness meter, configuration measuring instrument, roundness measuring instrument, etc, all these lay a solid foundation for product quality and improvement. Since our operation, in 2001 we won "Double Superior Enterprise" from CAEFI; in 2006, we passed TSl6949 quality management system certification by the British Standards Institution BSI company. The promotion of management level provides a guarantee for our company's further development.

Now our company can produce 4,000,000 internal combustion engine valve tappets of various types and valve train. With the development and growth, we plan to continue to expand our production capacity to meet the market change from customers' growing need. Our company lays stress on technical personnel training and investment to scientific research and continues to strengthen the training efforts for all employees in quality management, technological innovation and lean manufacturing. Currently, we have a dynamic young workforce with excellent quality.

With the market globalization, Handan Ridong Machinery co., ltd. will continue to be credit-oriented, and strive to provide customers at home and abroad with satisfying products and good service.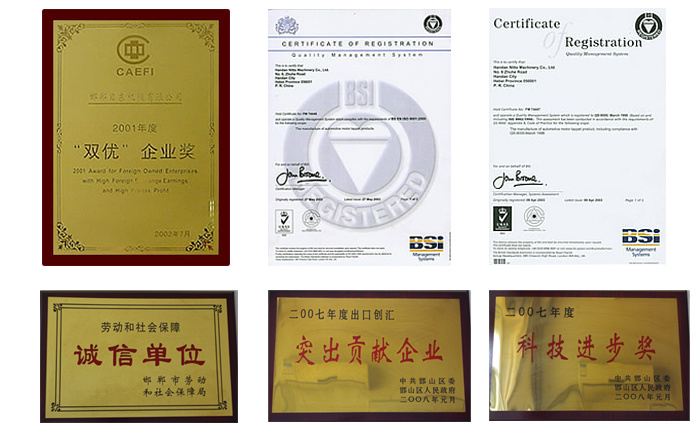 Handan Nitto Machinery Co.,LTD
handan nitto machinery co.,ltd.
---
Add: NO.2 XINHUA BEIJIE FEIXIANG ECONOMIC DEVELOPMENT ZONE HEBEI CHINA
E-MAIL:hdnm@ridongjx.com wang@nitto-x.co.jp